Medical Software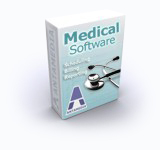 Antamedia Medical Billing software is complete solution for efficient, reliable and modern management of your clinic, hospital or medical practice. It's all-in-one software that offers many features which helps in everyday work.
It's core component, electronic medical records EMR (electronic patient records), helps you in storing, keeping, analyzing and editing every single info on your patients. It comprises good and flexible way of appointment scheduling, general and individual reminder options, used both for all your employees of just your own. Integrated billing module allows payments in two currencies.  Detailed reports and statistics shows your cash flow, management expenses and income. The integrated language translator helps you translating the language you prefer to have your software in.
Medical billing software is suitable for all types and sizes of medical care institutions allowing easy operation in one or more offices located in different city areas. Support for multiple security levels provides ability to organize access rights and available data for doctors, technicians and staff.
Antamedia Medical Software does not require anything more than standard PC equipment. It is very easy to learn and use in your medical institution.

Download Your Free Trial
Antamedia Medical
For Windows 2000/XP/VISTA/7/Server
Do you have a question before placing an order ?